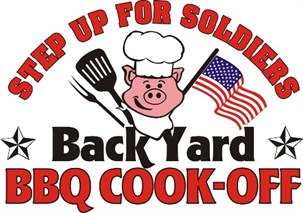 Where the BBQ Meets the Beach

IMAGES FROM PAST EVENTS HERE
Carolina Beach, N.C. on Saturday, January 25, 2014
Saturday gates will open at 9:30 am

Below are the links to download applications for Contestants and Vendors.
Registration $115 until

Dec 20

, after

Dec 20

it's $150
THE APPLICATIONS MUST BE FILLED OUT AND MAILED OR DELIVERED TO:
Janet Knott - /bbqcookoff  and phone is 910-431-8122.
Registration forms mailed to PO Box 155, Carolina Beach, NC 28428.
All Contestants are to report to the lake at 12 pm on Friday to set up.
There will be a meeting at 3 pm for all of the cooks.


The Competition will start with a level playing field: everyone will have the same meats, be in the same location and have the same time constraints. But thrown into the mix will be individual rubs, sauces or marinades, grill temperatures and methods of cooking that will leave someone going home with braggin' rights for the next year.
The cook-off will be held at the lake in Carolina Beach at the junction of Lake Park Blvd. and Atlanta Avenue and everyone is welcome. Admission is free. Tickets can be purchased to sample the BBQs after the double-blind judging is completed. There will be music, raffles, arts and craft vendors and additional food and drink for purchase. Gates open at 9:30am and prizes will be awarded at 4:00 pm. And all to benefit Step Up For Soldiers.
Step Up For Soldiers is an all-volunteer non-profit organization dedicated to enhancing the lives of our disabled veterans and their families. Step Up For Soldiers was started in November 2004 by Tom Russell, a retired Port Authority police officer and Vietnam Vet. His intent was to assist wounded soldiers who were sent overseas in response to the 9/11 terrorist attack and he began with building wheelchair ramps for two soldiers who returned home paralyzed from the waist down. The organization has increased from a single person to a small family of nine dedicated volunteers and continues to develop as it grows. Russell's goal is to help as many families of active and non-active duty soldiers as possible in the Fort Bragg to Camp Lejeune areas by modifying homes and providing other services to veteran and active duty soldiers.
There is no better way to spend the day than tasting the best BBQ around, maybe eating some oysters or a burger, listening to great music and browsing through the goods from the arts and craft vendors while helping support such a deserving organization.