History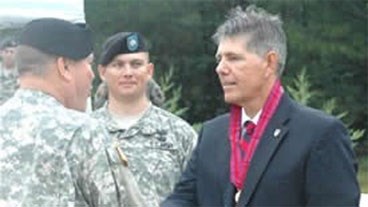 Step Up For Soldiers was founded in 2004, by Tom Russell whose goal was to build a wheelchair accessible ramps for two local National Guard Soldiers who had lost their legs during their tours of duty. Since that simple idea was conceived, the organization has grown significantly thanks to the support of dedicated volunteers and local media and business sponsors that embraced the importance of helping our Iraqi and Afghan heroes who did so much for our liberty.
Though the local 1/120th Combined Arms Battalion, Wilmington, NC is our primary focus, Step Up gladly serves all five branches of the military. Thus, whenever any soldier of veteran of the current conflicts needs help, the organization will deploy all resources available to assist to the best of our abilities.
Moreover, since its inception, the purpose of the organization has expanded to provide funding to soldiers who need financial assistance as well as home modifications, family support and more.
Raising awareness and visibility for our heroes is an important byproduct of our efforts. We consistently become involved with and host public events such as parades, golf tournaments and make sure that our special mobile memorial stands out to create attention and recognition for these special heroes. We are particularly proud of our involvement in helping to develop the Fallen Soldier Memorial Garden which recognizes the fallen in our area and provides a peaceful and special place for reflection and respect. The Memorial is surrounded by a lovely garden and brick pavers which can be purchased to signify personal displays of recognition.
The Step Up For Soldiers organization proves that one person can make a difference and a group can help to create positive change for those in need. If you are interested in supporting our efforts with your time, talents or donations, please Contact Us.